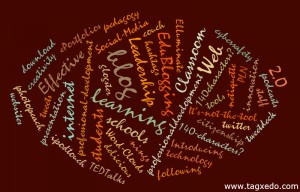 We are coming to the end of the current SLAV PD Personal Learning Networks for Victorian schools program. It has been amazing. Our first task, many weeks ago was to create a blog to record our reflections and demonstrate our learnings. I have taken to blogging like a duck to water – I love it – writing is a great way to sort out your knowledge and often it makes you justify your stance on an issue.  Blogging then brings an entirely different dimension to your writing as others may read it and hopefully add to your thinking by commenting.
I was already a keen Web 2.0 user but this program has provided me with the opportunity to re-consider the applications I knew and get to know many more. I have been thrilled that some fellow staff members have joined this project and the results are tangible within our school. The level of awareness has dramatically increased and we are now all on the same playing field.
This type of learning – on-line, self-paced, interactive and individualised, seems to be the way of the future for professional development.    Twitter has announced (or at least that is where I found out about it) another wonderful PD opportunity – the 2010 International Reform Symposium.  As WhatEdSaid states
Now you can learn from great educators in other parts of the world, without ever getting off the couch. What you miss will be recorded so you can even learn in your own time…….. The presenters are absolutely inspirational educators!
There will be the obvious time difference issues as the timetable is based in the US, however due to the wonders of technology – recording will be made and we can view the content at more respectable hours. The content described so far on the website include :
Using Word Clouds to integrate reading and writing
Introducing Web 2.0 into your classroom
EduBlogging
It's not the tool- It's how you use it
Effective Leadership in schools
Only in 140 characters?
This Ain't Your Mother's Classroom: Why You Need to Use Social Media in Your Classroom
People  will be tweeting their findings and ideas and queries using the #rscon10 hash tag.   So the learning will go on ……….
For more info see iLearnTechnology and 2010 International Reform Symposium.