What makes 40+ teachers give up an afternoon of their precious holidays and come from all over town to talk 'shop'?  I guess the answer is that there are a variety of motivations.  Yesterday, I shared a few hours with such a group: our first Melbourne Teach Meet.  I wrote about the beginnings in a previous post.
The success or otherwise of events such as this relies on participation as well as content and context.  Jess McCulloch (@JessMcCulloch) set the context for us by reciting her poem "Magical Connections" – reminding us that the heart and soul of teaching lies in the children we teach and our relationship with them.
We then heard from volunteers in either 2 or 7 min spells – they shared skills, tools, experiences and passion.   A great mix which I would hope provided some food for thought for all in the diverse audience. For the details see our Wiki. I came away with a variety of feelings:
Awe – at some of the clever technical things some people are doing with their students but also at the simple but powerful classroom techniques being employed
Inspiration – the feeling that I could give that a go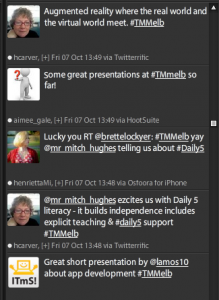 Camaraderie – that despite the fact that we teach in different schools, often at different levels and in different educational sectors, we share many commonalities.  A face to face meeting with people who up till now have been an avatar.  One even accompanied by a hug, as we felt a kindred spirit created through our long term on-line conversations .
Encouraged – the mere presence at this event encouraged the likelihood of another.  It could have been a flop – everyone too interested in their holidays to take the time to participate but the vibe was positive and feedback since has been heartening.  People wanted to be there !
Thankful – I am not aware of any other profession where the participants are so willing to freely share their expertise with others – the non-competitive nature of these teachers is refreshing and inspiring.  It is a blessing to work in this arena and one that we may often not acknowledge.
Teach Meet's are a wonderful and natural extension of the collaboration that so many of us receive and value in the Twitter and Blogosphere.      Teachers are taking control over their own professional learning and seeking like minded people to learn along with.
 I couldn't finish this post without mentioning Henrietta Miller who inspired our first meeting.  Despite efforts to include Henrietta in our meeting, technology failed us and we did not connect.  Also thanks to @mr_mitch_hughes, @aimee_gale @medg56 and @Ky_Maree  for making it all come together.