I spend a fair bit of time as an eLearning Coach talking to teachers and helping them set up class blogs.  This is a common and wonderful first step towards opening classrooms to the outside world, sharing practice, collaborating, modelling cybersafe behaviours, digital writing skills and much more.  The value of class blogs is the topic for another post and is well summarised by Silvia Rosenthal Tolisano in the graphic above (if you want any further information on blogging Silvia's blog should be your first stop!) .
I have found that there is a point at which teachers struggle to move on – they learn the mechanics of blogging, most often making their blogs a wonderful showcase of classroom activities.  They get a small audience, mainly from parents and their local school community.  Then the enthusiasm wains as the feedback circle ceases or remains small.  They see blogging as an extra activity to their daily routine not one embedded into their practice which has clear purpose and direction.

These are the ideas I then present :
Use blog as a reflective tool.  Simple classroom activities where you take the last 5-10 minutes of the day to reflect on an activity and note the learning that has taken place – scribe the students words.  Openly create the post with the students (modelling writing and reflective language) creating a chronicle of their learning and hopefully their wonderings too – these conversations happen anyway – blogs allow you to record it and share it .    A great example here using an embedded shared Google Slide (thanks to Michelle Scott)
Using blog posts for shared reading and writing in place of a big book etc., simple transferral of everyday tasks into the digital space.
Many teachers do not know how to create a network, how to connect their class with others.  Publicising posts via email to families and ensuring all class blogs have links to each others blogs are important starting points.  Remember it is a blog not a poster on your wall – use the benefit of Blogrolls and links  to connect.
Finding other class blogs and starting relationships with them by commenting and leaving links back – a bit like  introducing yourself to someone you don't know at a party !   Once a connection is made and it may even be with the class next door or down the street, you can agree to support each other by regular visits and comments, ensuring an audience for your writing.  
There are websites such as Quadblogging , which will partner you up with other class bloggers around the world. Each class takes a weekly turn to be the recipient of support.  Amazing connections have been started through this method.
I think I will have to say that I believe Twitter is the best way to connect your blog to a wide audience.  Amongst the Twitter world there is a supportive community ready to respond when teachers ask for feedback.   Using hashtags such as #comments4kids ensures an audience.  Admittedly, not every tweet translates into a comment or connection but I have seen amazing results from teachers who use Twitter to encourage an audience.  More information on comments for kids here .  Some teachers use their own accounts or create a specific class Twitter account to share their class news and posts.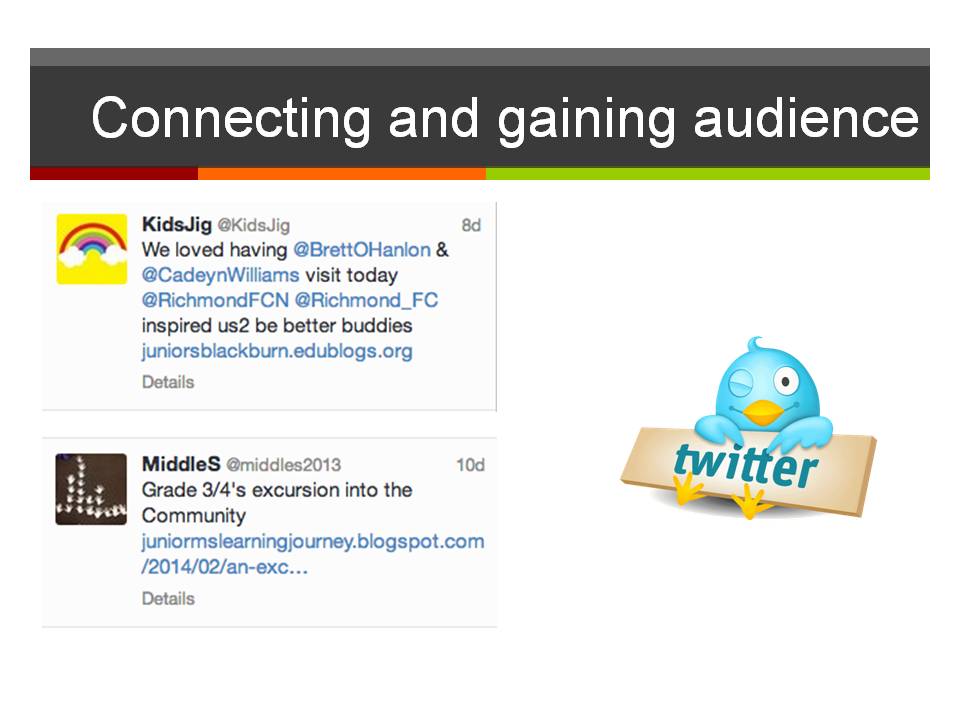 Activities such as the Student Blogging challenge which can be participated in by individual students or by classes is another method.  The Challenge appoints voluntary mentors to students as well as actively teaches and encourages students to apply quality commenting skills when responding to other students posts.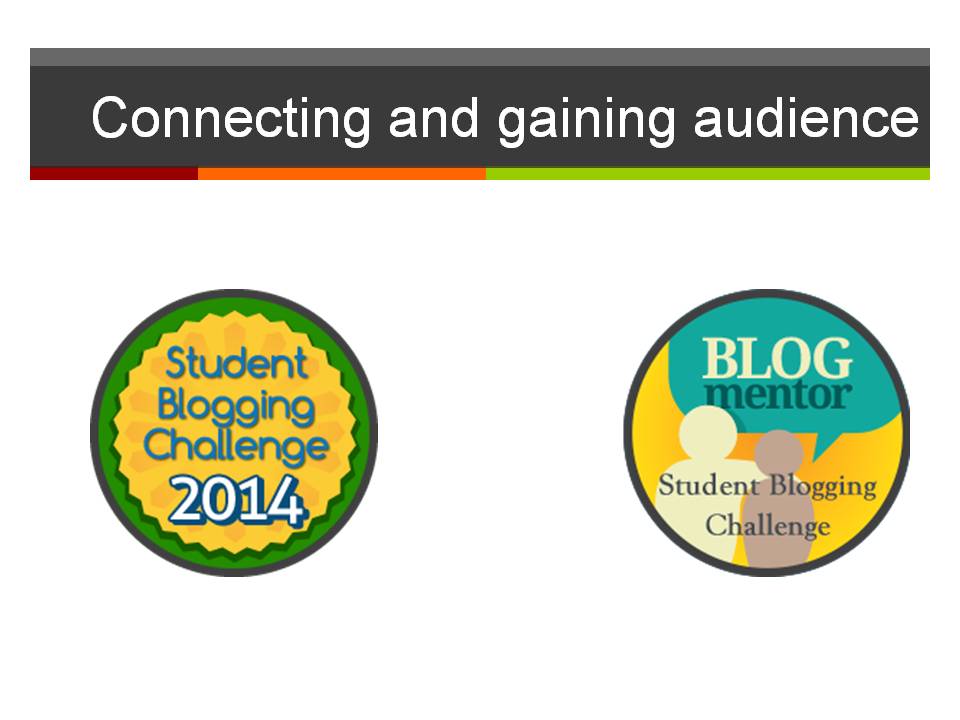 I think that summarises some of the tactics that can work to move classroom blogging to the global level and extend the reach of the message.  Do you have any other ideas???