After a diverse week working with teachers in a variety of contexts I feel like I need to de-brief, to take stock of the work and the experiences and what better way than to blog about it !
Arriving on King Island on Sunday afternoon to meet my colleague Peter Lelong (Tasmanian CSER Project Officer) was a rare opportunity for me  to work with teachers in quite a different context to my usual experiences as Victorian Project Officer.  It was wonderful to try and understand the workings, blessings and challenges of this isolated rural community.  While the weather was not particularly warm, the welcome was.  On Monday, we had a great day discussing the relevance of the new Digital Technologies curriculum,  working through classroom examples and exploring some tech tools.  Before leaving on Tuesday, we explored Makey Makey kits with some students as they were going to continue working with the CSER Lending Library Kit for the remainder of the term.
One activity on Monday for the teachers was a  'data' activity – Monster Glyphs.  It was lovely to see the immediate use of that idea on Tuesday morning adapted by the Year 3/4 class teacher and very much enjoyed by the creative monsters !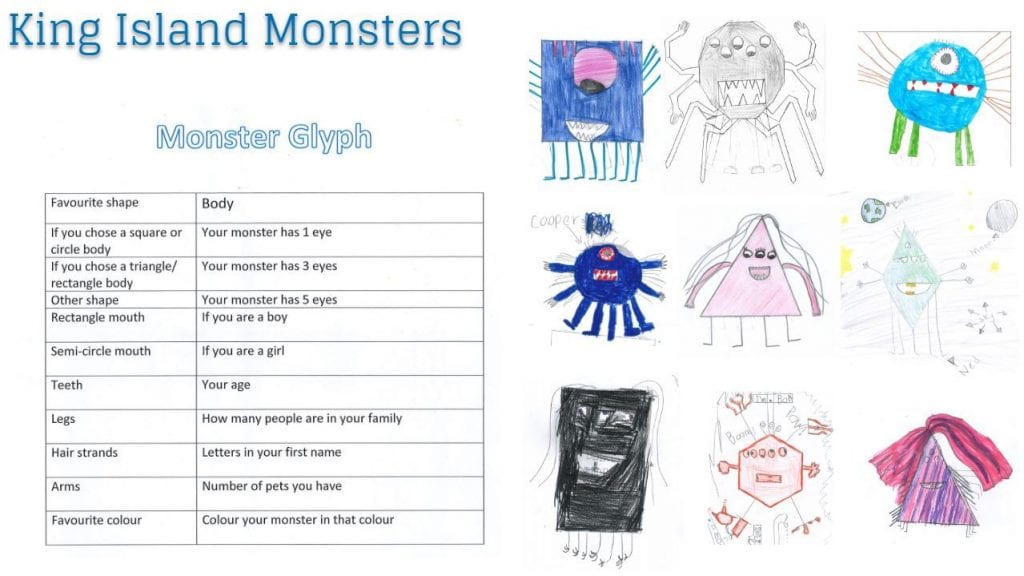 Wednesday saw another wonderful collaboration between CSER and Museum Victoria Education Team – a session hosted by Scienceworks.   Toni Falusi, our ACT Project Officer led secondary teachers through unplugged activities, Ozobot challenges and Microbits workshops.  Great stories were shared when the day began with a rich discussion, led by Mei Liu on our personal history with technology.  We visited CSIRAC – the fourth computer in the world which was designed and built in Australia in the late 1940's.  This was a wonderful start to our day really highlighting the changes over the decades. Participants were so encouraging and seemed to enjoy being in the role of learners – happily working through challenges and hands on activities.
Thursday morning saw Toni and I fronting up to my favourite conference Digicon, DLTV's annual event.  This is always more than a series of learning sessions for me, it is a lovely opportunity to meet many teachers who form my Professional Learning Network face to face.  Rafranz Davis in her keynote mentioned the power of being a connected educator and every visit to this conference reminds me of that !  The CSER team expanded again, joined by Sue Carter the NT Project Officer.
Toni and I ran a session each day and were once again joined by groups of teachers who were happy to have a go and play with whatever challenge we set.  From dice games on flowcharts to creating digital dice with Microbits they were eager to discuss their ideas and contribute.
A highlight for our CSER team was to meet and hear from Linda Liukas author of the Hello Ruby series of books.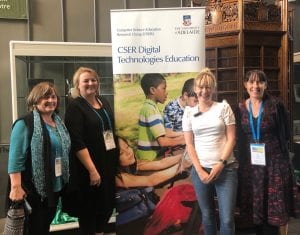 I was also thrilled to be at Digicon when two long time members of my Professional learning Network  John and Bec were recognised for their contributions to the community.  John received the ISTE Making IT Happen Award and Bec was awarded  Outstanding Leader.  Steve Allen and Natalie Heath were other well deserved award recipients.
Both Bec and John mentioned that as teachers they are constantly learning from those they work with.  From King Island to Scienceworks to Digicon, the common element was teachers who were not afraid to be learners and who were also happy to share their skills, challenges and experiences.  What a week !
The CSER Adelaide Project supports teachers with the Digital Technologies curriculum. A range of online resources (MOOC's) , Lending library of equipment and face to face opportunities with Project officers in each state.  For more information see https://csermoocs.adelaide.edu.au/