We are now into our first fortnight of "Physical distancing" and life is OK.   In Victoria our government are updating us regularly and cautiously acknowledging the positive effects of our joint good behaviour.  Our island nation is benefiting from what has sometimes been called and tyranny of distance – but we are not out of the woods.
The following little story will tell how technology continues to connect us and inspire us to continue family traditions enven when we are not face to face. .
My father-in-law is an Australian who came from Italy as a teenager, met an Australian girl and married.  My Mother-in-law took to her new Italian culture with gusto, learning to speak Italian as a 17- 18 year old and very keenly learning from the Italian cuisine delights as well.   As a teenager, I was inducted into the same culture visiting the grandparents – Nonna and Nonno.  Tiny little Nonna delighted in sharing her creations – one of which is the Ricotta Cassetelle – only created for Christmas and Easter.
This year we have watched whilst the extended family share the tradition and joy via Facebook. Two cousins – one in Italy and another in Greece.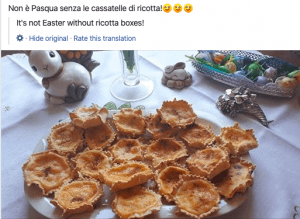 Inspired to give them another go (after a try a few years ago) we searched out the recipe written by my mother-in-law in quaint Italian/English
I used Google Translate to verify my Year 10 Italian translation of the Italian phrases – realising that 'cucchianins' were in fact 'cucchiai' translating to tablespoons
The final result [shared in Instagram of course] – yum !  Did they taste like Nonna's?  Well not exactly,  but they serve to connect us to the past and others in our present (although distant) .