We often come across sites or tools we think others would like to know about too.  Here is the beginning of an attempt to share some I have used successfully.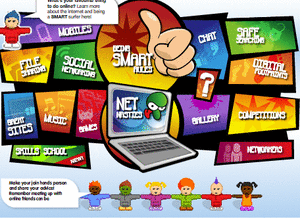 A great guide to teaching students about their Digital footprint
Common Sense Media: Digital Footprint Intro from Joaquin E. Jutt on Vimeo.
Think about this one before showing it to primary kids but the message is powerful
>
 ThinkuKnow has a large number of videos as well – need to check them for age appropriate material (as with all resources)
For Australian educators and schools , there are Interactive sessions run by ACMA .  We conducted the CyberDetectives program which was a great conversation starter.
Netbasics from New Zealand has some interesting ideas
The Adventures of Smarty the Penguin sends a simple message to very young children to Ask before they click
Fantastic activity http://shareit.yhgfl.net/kirklees/kcyps/?p=310
My adaptation
Give children sticky notes – ask them to write following details on each one – Name, Address, school, birthday, pets, hobbies
Children stick the notes to their chests
Ask children to imagine they are going down to the shops with these details on their chests
Then ask following questions
Does anyone had a problem with that and why?
How would it make you feel?
What bad things might happen as a result? 
How many of you have social network profiles? 
What do you do on them?  etc
5. Watch Jigsaw Video
6. Think/Pair/Share – What have you learned?
7. Children use http://www.thinkuknow.co.uk/8_10/cybercafe/cafe/base.aspx to practice correct safe on-line behaviour